YouTubePlayer is a aplication developed in Mobile Processing that allows to make a search on the site of YouTube videos in its version for mobile phones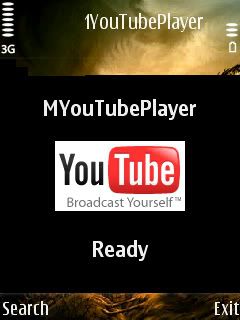 The application allows to visualize a list of videos that have relation with the looked for text, to sail through the list formed by images of each video, to visualize I title and duration and to reproduce the video if the device supports streaming RTSP/3GP with H263/AMR.
Cool Stuff
Jig Browser
jig browser is the full browser application that allows you to view the internet web sites on your mobile phone. and You can customize and add your own applications by using our jiglet plugins, exclusively for the jig browser. jiglets …
InetTools TrackID For Java MIDP 2.0
The TrackID music recognition service records a short music clip from an external music source, and sends it over the Internet. You will then receive the song title, artist and album name, if available.
Opera Mini 5 Final Version
Opera Mini 5 browsers are designed to boost your browsing speed significantly. it simple with a sleekly designed user interface, regardless of the phone you are using, and with the same great feature set, such as Speed Dial, tabs, and …
Note : GPRS/edge/3g Connection Required Because It Plays Videos Online.
Download
YouTubePlayer v0.1