MGMaps version 1.31.00 Java Application By Cristian Streng
Mobile GMaps is a FREE application that displays Google Maps, Yahoo! Maps, Windows Live Local (MSN Virtual Earth) and Ask.com Maps and satellite imagery on Java J2ME-enabled mobile phones, PDAs and other devices. MGMaps can connect to a GPS receiver over bluetooth or use internal GPS features on some phones in order to automatically display the map for your current position.
New in this version: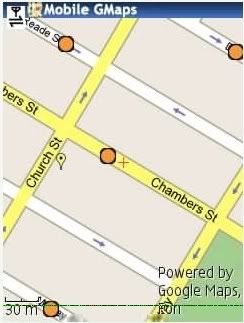 Cool Stuff
Locify v1.5 – Explore interesting places
Locify is a mobile application containing many location services, for free and available for most phones. It also contains useful features like maps, navigation, place and route recording.
The Noble Quran – English Translation Full Version 1.14
This is a FREEWARE J2ME packaged software version of the human interpretation of the Quran in FULL literal English translation form (Surahs 1-114), for academics and educational purposes. It is sourced from a translation by Professor Hasan Qaribullah, Umm Durman …
Sound Recorder 1.0.1
Sound Recorder is a simple sound recorder that can record sound until the free memory in the memory card is finished. The recorded music will be saved as .amr file on the memory card.
Mobile GMaps now supports a closer integration with Navizon. You can use these products together on Symbian and Windows-Mobile phones to see your position on the map without a GPS device. More information on how to install both applications can be found in a previous news post.
The GPS options were reorganized and the GPS position and heading can now be shown full-screen. To access the new GPS menu, select 6 in the main menu. You can also press 6 when the menu is not open to switch between the regular map screen and the GPS info screen.
The current heading (if available) can be shown as an arrow in the center of the screen while viewing the map.
A bug was fixed in the View KML service.
Other minor bugs and improvements.
Download
MGMaps