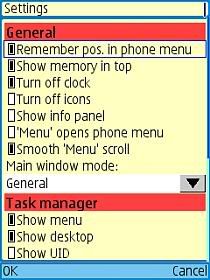 Jbak Taskman is a free program task manager for symbian 3rd. It also features shortcut launcher and app launcer. With loads of settings available, you can customize it as you like.
Jbak TaskMan Features
Lock keypad from any screen.
Reboot your phone.
Find and start the desired application by pressing '#' key and typing the first letters of its name.
Create shortcuts in the Launch Menu to start applications, open documents or for specific tasks.
Get full information about running programs and free memory left on the phone (RAM, Phone memory and Memory card).
Switch to or Close any application. (Yes, it can close Gallery & Music player too)
Run Jbak Taskman by pressing and holding Menu button (like the built-in Task manager).
Download
Jbak TaskMan v0.97 For S60v3