JoikuSpot is a free mobile application solution that turns your Symbian phones to WLAN HotSpots.JoikuSpot enables S60 Smartphone to share it's 3G internet connection wirelessly over WLAN with any compatible WLAN device such as laptop, other Smartphone or e.g. Apple iPod touch.Multiple devices can connect to JoikuSpot in parallel and seamlessly share the same 3G internet connection. JoikuSpot acts thus as an internet gateway to external WLAN devices.When turned on, external WLAN devices can discover the open JoikuSpot and establish internet connection wirelessly using the mobile phone's 3G internet connection.
JoikuSpot application client installs and works in Symbian S60v3 devices (e.g. Nokia N95, Nokia N95 8GB, Nokia E90, …). Device must have WLAN and 3G support.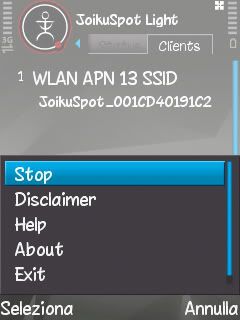 Known issues:
-JoikuSpot might also work with E60 with new hardware version. With older hardware the JoikuSpot is created, but for unknown reason the connection to internet is disconnected after 10 seconds. If you manage to successfully use JoikuSpot with E60, please let us know. Please also deliver your hardware version, you can get it with *#0000#
-JoikuSpot has been tested successfully with several laptops: Fujitsu-Siemens, Apple Macbook, Dell, HP and new IBM models seem to work well. With older IBM laptops (at least T40P) the connection is not working. The reason behind is the WLAN chipset that the older IBM series is using.
-HP iPAQ rx3715 as a roaming device has been reported to have some interoperability problems. Connection between Nokia N95 as JoikuSpot and iPAQ is set ok, but the browser is working. If you manage to use iPAQ succesfully, please let us know.
Download
JoikuSpot Light Beta for symbian 3rd