Location Tagger is a application that can automatically tag your location data to your pictures. As you take a picture, your GPS coordinates are saved to the EXIF header of the JPEG file. You can use this data later, for example, to locate your pictures on a map.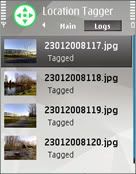 Nokia Location Tagger tries to tag pictures to the last "known" coordinates in the last 10 minutes. Since GPS module normally takes some time to initialize, it's better to launch Camera application a couple of seconds before taking pictures. Launching Camera application will activate Nokia Location Tagger; which will initialize GPS module. You can also bring Nokia Location Tagger window to the foreground to initialize GPS module.
The GPS coordinates are stored in the EXIF header of JPEG files. Some online sites, such as Flickr and Panoramio are able to display GPS coordinate from the EXIF. For more info on these services, please see below. You can also use photo organized application that read EXIF, such as Picasa (with the combination of Google Earth).
System requirements
Location Tagger has been tested with Nokia N95, N95 8GB, N82, and E90 using the integrated GPS.
Download
Location Tagger For Nokia Symbian 3rd Edition