Map My Tracks is the easy way to accurately track, or share in real-time, your sporting activity over land, sea or air using your mobile cell phone and GPS.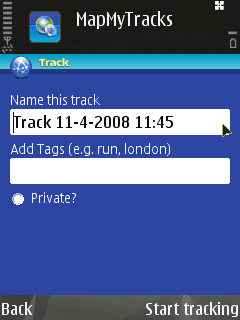 It's ideal for tracking activities like sailing, cycling, running, motor racing, canoeing, skiing, walking, windsurfing, orienteering, mountaineering, horse riding, hang gliding, gliding, snowboarding, paragliding, hot air ballooning or just for fun to show your friends where you are right now.
Map My Tracks works with as many mobile phones as possible. At present Nokia, Blackberry, Sony Ericsson and some Samsung, Motorola, Siemens, Pansonic, Lenovo, HTC and LG phones are supported. Map My Tracks also works with Windows Mobile 5.0 and 6.0.
Map My Tracks is designed for use on any compatible mobile phone. The basic requirements are:
– Web-enabled phone with an internet data plan and Java
– GPS-enabled phone or external GPS receiver and Bluetooth
– Map My Tracks Mobile installed on your phone
Download
Map My Tracks For Java
Map My Tracks For Blackberry