Map My Tracks v1.3.1 Java (Jar/JAD)
Map My Tracks turns your mobile cell phone into your personal real-time GPS tracking device. Using a mobile cell phone with built-in GPS or an external GPS receiver you can map and track your location in real-time. Map My Tracks is great for bringing a new insight into your sporting activity, it provides a competitive edge and makes training fun. Map My Tracks let your friends, competitors or parents know where you are right now.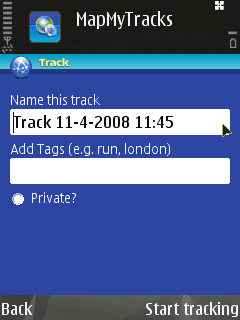 It's ideal for tracking activities like sailing, cycling, running, motor racing, canoeing, skiing, walking, windsurfing, orienteering, mountaineering, horse riding, hang gliding, gliding, snowboarding, paragliding, hot air ballooning or just for fun to show your friends where you are right now.
Features
Track your progress over land, sea or air in real-time using just your mobile phone
Allow friends, training partners, coaches, spectators or parents to follow your progress live
Gain a competitive advantage. Replay, analyse and understand your performance.
Automatically upload track data to your Map My Tracks activity log on the web – no cables needed
Track your race with Map My Tracks and discover where your race was won or lost
Replay your tracks overlayed on street or satellite maps
Analyse distance, top speed, average speed, direction, and show your current location
Discover new tracks or training routes around the World
Share and review tracks by others
Compare your performance against other competitors
Map My Tracks is designed for use on any compatible mobile phone.
The basic requirements are:
– Web-enabled phone with an internet data plan and Java
– GPS-enabled phone or external GPS receiver and Bluetooth
– Map My Tracks Mobile installed on your phone
Download
Map My Tracks v1.3.1