Map24 Mobile is tailored especially for those who are constantly on the move, giving you comprehensive location based information and features when combined with your Smartphone or Pocket PC. Would you like to know where the nearest restaurant, hotel or petrol station is? No problem! Map24 Mobile will find you what you are looking for whilst you're on the move.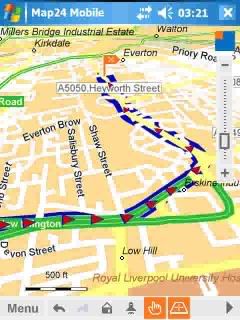 Functional Overview:
? Comprehensive city maps for simple route planning;
? Software that will find all Points of Interest (POIs) for a given area in a glance;
? Your required destination will be found quickly;
? No need to install map data onto your phones memory card
? The mobile map data is constantly being updated – it is never out of date;
? The map view is freely configurable;
? If you save the Software-ID of your Map24 Mobile Application in your MyMap24 Profile, your personal address book will always be available on your mobile!
Features Map24 Mobile:
Street level maps of Europe, North America, South America, Middle East, Australia/New Zealand, South Africa
Easy to use
More than 15 languages supported New!
High-speed detailed map display
Clear city maps
Easy to use single entry field search engine
Comprehensive route planning (car and pedestrian New!)
Points of Interest (POIs) like car parks, hotels, car rentals, restaurants etc
Import your personal MyMap24 address book
Uses up-to-date map data from the Map24 server
2D- or 3D-map view
Download