Guardian proceeds with authentication of the inserted sim card; if authentication fails, Guardian send a notification sms message to a previously set telephone number.
In addition, the system features remote control functions, i.e. deleting your photographs/phone book/text messages/video/audio data in case of loss or theft of your mobile phone (see Plugins section).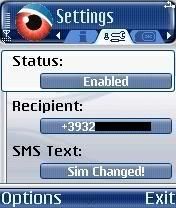 main features of Guardian
Sms Notification
AutoStart
AutoHiding
Multilanguage
Uninstall Protection
Hard Reset Protection
Low Overhead
(*) Remote Control Plugins
(*) Sim White List
(*) The latter two features will be activated after a donation.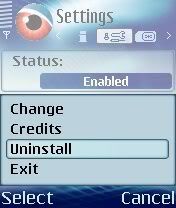 Compatible Devices
Nokia: 3230 Nokia 6260 Nokia 6600 Nokia 6620 Nokia 6630 Nokia 6670 Nokia 6680 Nokia 6681 Nokia 6682 Nokia 7610 Nokia n70 Nokia n72 Nokia n90
Panasonic: X700 Panasonic X800
Samsung: SGH-D720 Samsung SGH-D730
Lenovo: P930