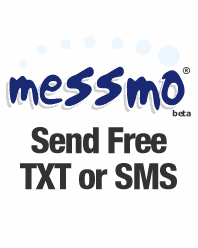 Messmo uses the mobile internet and combines SMS with the best of instant messaging and email, to give you:
Free TXT
Use real mobile numbers for SMS, Free TXT and attachments. Send to Messmo and non-Messmo users.
FriendCasts
Create an instant group with a new number. Send one TXT and all of your friends get the message. Want to share a cool photo? Start a chat on a hot topic? FriendCasting is for you.
Your World
Messmo is about reaching your world. Right now upload, post and much more with FaceBook using 1900FBOOK. Or with 1900EMAIL choose to receive TXT alerts from any site when the site sends you an email.
Download
Messmo v1.1.48