MobiGenie is one of the most valuable utilities for any mobile phone user. With MobiGenie, you can manage your mobile phone world by a lot of integrated features, such as (answer machine, caller locator, SMS auto-reply, caller block,… etc).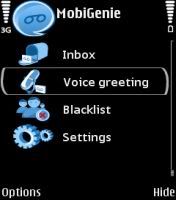 MobiGenie presents a number of useful call management functions :
Display caller location.
Auto-reply to the caller via an editable SMS.
Voice answer machine.
Reject undesired numbers.
Tested works to Nokia E65, Nokia N93, Nokia E61, Nokia N95
Download
MobieGenie 1.00 for s60 v3