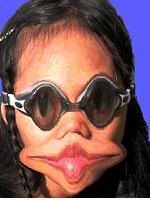 Face warping software for mobile phones..
Warp faces of your friends, family or celebrities and have fun. Let them move, stretch and contract, play movie with all changes you have done.
This is Java application developed to run on so many devices as possible. Just try it on your phone. It should run on every phone with supporting Java MIDP 2.0, CLDC 1.0, JSR 75.
Cool Stuff
AllTunes.Mobile For Java MIDP 2.0
The allTunes.mobile is a music catalog in your phone. With allTunes.mobile you can find and choose a song you are interesting of, or an album, new hits from charts, favorite musician or group. All this is available without a PC …
Evan MP3 Player
Evan is a MP3 player for mobile phones.The user can easily determine in which directory the music files stored either in the internal phone memory or memory card and Evan on the ID3 labels catalogs each song. ID3 tags are …
EntaggerMobile v1.3.0
EntaggerMobile is a program editing ID3 v2 tags MP3 files and works only phones with open FS (JSR-75).
Download
Face Disaster 1.3