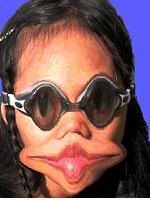 Face warping software for mobile phones..
Warp faces of your friends, family or celebrities and have fun. Let them move, stretch and contract, play movie with all changes you have done.
This is Java application developed to run on so many devices as possible. Just try it on your phone. It should run on every phone with supporting Java MIDP 2.0, CLDC 1.0, JSR 75.
Cool Stuff
CellSerf 6.00
The CellSerf mobile application allows the sharing of multimedia content between users in almost real time. Delegates will be able to exchange video, voice, picture and text messages with the conference community. With the application it is also possible to …
Mobile Photoshop – Photo Editor for Mobile Phones
Mobile Photoshop is an alternative photo editor for Java J2ME based mobile devices. Select one and the menu disappears. Slide left and right across the screen to control an invisible slider while the top of the screen displays the name …
GlassPlayer – MP3 Player For Java Phones
mp3 players in J2ME phones by Rooster Designs. With GlassPlayer you get the functionalities you lack with most common native players, like multiple playlists, nice looks and great user interface. Get yourself a sophisticated mp3 player for your J2ME device.
Download
Face Disaster 1.3