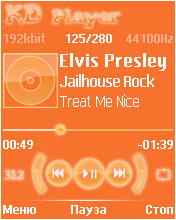 What's New in version 0.9.6 :
1. Added icons in the menu to the music library – To install the icons when changing the skin tag is designed "icons", which shows their image. (example: icons.png file in the archive the application);
2. Added reading of tags, bitrate and sample for the WMA-files;
3. Added a separator in the music library for a list of playlists and autoplaylists;
4. Added item "Information on the skin" – to display information about the author skin, creation date, etc.;
5. Added auto-hide commands "menu" in the music library;
6. Added automatic conversion in the file manager to choose the disk, if the folder with the music has been removed or renamed – now you do not need to press the "Back" to exit from non-existing folder;
7. Changed the window displaying information about the impossibility of opening the files, updating the music library, etc. – Now the message will be displayed directly in the player;
8. Corrected reading of tags on devices Symbian – now the application does not hang when reading the information on file;
Download
KD Player 0.9.6
Cool Stuff
FaceWarp for JAVA
FaceWarp is a unique software for camera phones. Using leading image processing technology, it offers one of the funniest products on the market today. Fully automatically, it finds the faces in pictures and deform them using an built in library …
Nokia Image Exchange Lite for Nokia
Nokia Image Exchange Lite a Java application for uploading, publishing and sharing images for Nokia mobile phones.
M:Video v1.10
Download the latest M:Video for your mobile phone!