This application will help you to expand the possibilities of the standard built-in alarm and customize all alarm according to you needs and wishes
NiceAlarm features: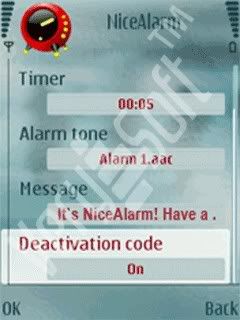 Six types of alarm;
Extended customization options;
Alarm text messages support;
Alarm optional deactivation code support;
Minimal server part among similar applications.
NiceAlarm very easy to use application. All management options are logically structured, so you need only couple of minutes to get use to it. Full information about all NiceAlarm features and use regulations are available in the NiceAlarm User manual.
Compatible Devices
Nokia 3250 Nokia 5500 Nokia N71 Nokia N73 Nokia N75 Nokia N80 Nokia N91 Nokia N92 Nokia N93 Nokia N93i Nokia E50 Nokia E60 Nokia E61 Nokia E61i Nokia E62 Nokia E65 Nokia E70
Nokia 6110 Nokia 6290 Nokia N76 Nokia N77 Nokia N95 LG KS10 Samsung i520 Nokia 6630 Nokia 6680 Nokia 6681 Nokia N70 Nokia N72 Nokia N90
Download
NiceAlarm For Symbian S60