Conversation is a messaging application that allows you to follow your conversations, organized by individual contacts. In addition, the application provides an easy way for replying to messages, and to continue the conversations.
After installation, the application will appear in your device as an application shortcut, and as a new tab in your Contacts application.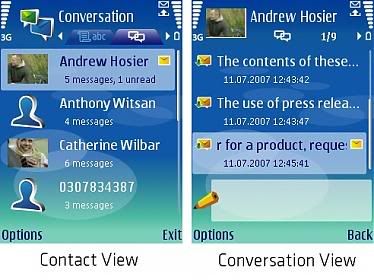 Compatible Devices
tested with Nokia N73 , Nokia N95 and 6290
Works but not fully tested with Nokia E50, E60, E61, E61i, E62, E70, N71, N75, N77, N80, N91, N92, N93, N93i, 5700 XpressMusic, Nokia 6110 Navigator, 6120 classic, 6121 classic, E90 Communicator, N76, N81, N81 8GB, N95 8GB.
Download
Nokia Conversation For Symbian 3rd