PanoMan Symbian Software By bit-side GmbH
Creating stunning panoramas has never been so fast and easy: the fully automatic stitching-algorithm of PanoMan composes panoramas in realtime and up to 360°!
PanoMan™ includes an easy to use photo-gallery browser which lets you browse and zoom your snaps.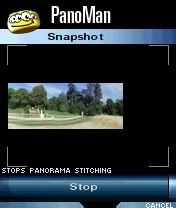 You can also upload your panoramas via bluetooth or infrared to your PC or another phone.
Download
Nokia 3650, 7650, Siemens SX1
Nokia 3230, 6260, 6600, 6630, 6670, 6680, 6681, 6682, 7610, N70
Nokia 5500 (3rd edition)
Nokia E50, N71, N73 (3rd Edition)
Nokia N80, E60, E70 (3rd edition)