Penrillian Packager is the tool used to make application installation SIS files for deployment on target symbian phones.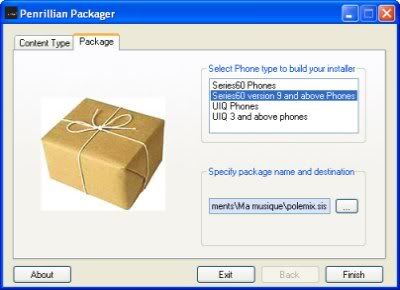 It supports Symbian UIQ 3 and UIQ 2, Symbian Series 60 Edition 3 and Series 60 Edition 2. It runs on Microsoft Windows and requires .NET 3.0 Framework; if you get error C0000135 on running the app you need to install this.
Use Penrillian Packager for whatever you will – the applications are limited only by your imagination:
* Create suites of music tracks to install and play.
* Install albums of photos, or videos
* Distribute books written with browser markup (WML, HTML, etc).
This package is free. The application is supplied with no support or warranty either expressed or implied.
Download
Penrillian Packager Beta for Symbian OS