Phone Guardian is a mobile security anti thief application for your Series 60 v3 Symbian smartphones.In case your mobile is forgotten or stolen, Phone Guardian will allow you to remotely secure and auto lock your Symbian mobile by sending a lock SMS.
Once locked the phone remains secured. It will not be possible for the thief to use your phone or to uninstall the Phone Guardian software. Mobile can only be unlocked by sending an unlock SMS with a password.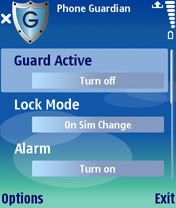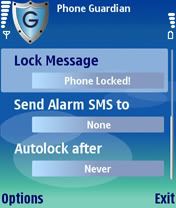 Phone Guardian sends automatically a secure SMS, where information that allows you to catch the thief is included. Armed with Phone Guardian, your Nokia smartphone will be secure as in safe!
Features
Remote mobile lock and unlock with lock SMS
Phone Guardian becomes active (locks the mobile, emits the siren) when a different SIM card is inserted or on lock SMS
Operator specific and location information is automatically sent to the number specified, including the number of SIM, IMSI and CellID numbers. This information can now be obtained at any time.
Siren option can be put on and off, also remotely using SMS
Uninstall is possible only with the right password
Phone lock is independent from phone restart
Compatible Devices
Nokia 5500, Nokia E50, Nokia E60, Nokia E61, Nokia E62, Nokia E70, Nokia N71, Nokia N73, Nokia N75, Nokia N80, Nokia N91, Nokia N92, Nokia N93, Nokia N95, Nokia 3250, Nokia N Series, Nokia E Series, Nokia E65, Nokia N76, Nokia E61i, Nokia N73 Music Edition, Nokia N77, Nokia 6120, Nokia 5700, Nokia 6110 Navigator, LG KS 10, Nokia E51, Nokia N81, Nokia 6121, Samsung SGH-i400, Samsung SGH-i520
Download
Phone Guardian version 2.0 for symbian 3rd