PhoneBAK Mobilephone is an innovative lost & found anti-theft application program that sends the thief's contact number, location and other details to a pre-defined mobile phone number when your mobilephone is stolen!
The program works quietly in the device by automatically checking on the Subscriber Identity Module (SIM) card, all without the knowledge of the unauthorized user!
When stolen, PhoneBAK Mobilephone will send out 02 SMSes (local and/or overseas) using the thief's own SIM card to destined pre-configured contact numbers together with other information to get the phonebak!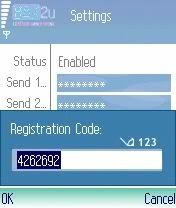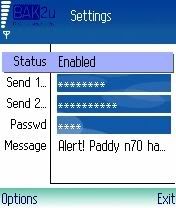 Supported Languages
English, Chinese, French, German, Spanish, Thai and Russian.
Compatible Devices
Symbian S60 1st Edition :
Nokia N-Gage Nokia N-Gage QD Nokia 3600 Nokia 3620 Nokia 3650 Nokia 3660 Nokia 7650 Siemens SX1
Symbian S60 2nd Edition :
Lenovo P930 Nokia 3230 Nokia 6260 Nokia 6600 Nokia 6620 Nokia 6630 Nokia 6670 Nokia 6680 Nokia 6681 Nokia 6682 Nokia 7610 Nokia N70 Nokia N72 Nokia N90 Panasonic X700 Panasonic X800 Samsung SGH-D720 Samsung SGH-D730 Samsung SGH-Z600
Symbian S60 3rd Edition :
Nokia E50 Nokia E60 Nokia E61 Nokia E61i Nokia E62 Nokia E65 Nokia E70Nokia E90 Nokia N71 Nokia N73 Nokia N75 Nokia N76 Nokia N77 Nokia N80 Nokia N81 Nokia N81 8GB Nokia N91 Nokia N92 Nokia N93 Nokia N93i Nokia N95 Nokia N95 8GB Nokia 3250 Nokia 5500 Sport Nokia 5700 Nokia 6110 Navigator Nokia 6120 Nokia 6121 Nokia 6290 Samsung SGH-i400 Samsung SGH-i520 LG KS10