PhonePoint is the professional wireless presentation tool.
It has been designed from the ground up as a tool for presenters; slowly fine tuned with feedback from these professionals, people for whom presentations play an essential role in their job.
Whether an occasional PowerPoint user or, if indeed, presentations are a critical part of your job, PhonePoint will give you a competitive and polished edge when delivering PowerPoint presentations. With PhonePoint you can concentrate upon just the presentation and the audience, leaving the PC well alone.
Features:
PhonePoint allows you, remotely from your phone, to move Forward, Backward and Restart your presentation.
Seamless Bluetooth Integration (support for the Toshiba, Widcomm, BlueSoleil, Microsoft and other common bluetooth stacks).
No user configuration – works right out of the box! Direct access to the bluetooth stack, no slow browsing-for bluetooth devices or time spent attempting to connect-to a Bluetooth device – it just works!
Ideal for presentations using a projector – freeing you up to stand next to your presentation. No more sneaky change-slide hand signals to a colleague positioned next to the PC.

Large and Clear display of the Current Slide's Title and Position.
Keep your presentation on track – counters display the time spent on the current slide and for the total presentation.
Quickly (and Privately) access the Speaker Notes for the Current Slide on the phone's screen.
Supports all Series60 phones in their native screen resolutions.
Remotely play (and stop) video and audio embedded within slides.
Works wirelessly up to 10 meters – 30 foot from your PC.
Fully compatible with Windows Vista and Office 2007.
Compatible Devices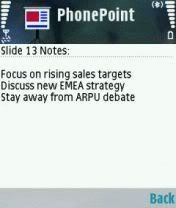 Nokia 3230 Nokia 3250 (S60 3rd Edition) Nokia 3600 Nokia 3620 Nokia 3650 Nokia 3660 Nokia 5500d (S60 3rd Edition) Nokia 6260 Nokia 6600 Nokia 6620 Nokia 6630 Nokia 6670 Nokia 6680
Nokia 6681 Nokia 6682 Nokia 7610 Nokia E50 (S60 3rd Edition) Nokia E60 (S60 3rd Edition) Nokia E61(S60 3rd Edition) Nokia E62 (S60 3rd Edition) Nokia E70 (S60 3rd Edition) Nokia N-Gage Nokia N-Gage QD Nokia N70 Nokia N71 (S60 3rd Edition) Nokia N72 Nokia N73 (S60 3rd Edition) Nokia N80 (S60 3rd Edition) Nokia N90 Nokia N91 (S60 3rd Edition) Nokia N92 (S60 3rd Edition) Nokia N93 (S60 3rd Edition) Nokia N95 (S60 3rd Edition) Panasonic X700 Panasonic X800 Samsung SGH-D720 Samsung SGH-D730 SendoX Siemens SX1
System Requirements:
Microsoft PowerPoint 2000 or later.
Windows XP or Windows Vista.
Bluetooth PC support.