Pro Session Golf enables you to capture and analyze your swing by using video analysis tools and swing comparison. Compare yourself to desired model swing on split screen and verify your swing is consistent and follows set targets. Use drawing tools to pinpoint critical factors during swing, for example swing plane, weight shift, and sway. Improve your game anytime, anywhere.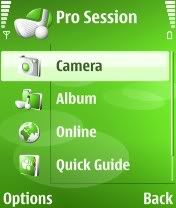 Features Pro Session Golf:
Golf-tailored viewfinder
Split screen swing comparison
Video, video snapshot and still image capture
Easy to use controls
Frame-by-frame playback
Drawing tools for swing analysis
Sending swing videos over e-mail, Bluetooth, infrared or MMS
Swing archive with possibility to add training notes

Free exclusive online service with reference swings, news, useful links and phone customization
Reference swings by Titleist Performance Institute.
Languages:
Arabic Dutch English French German Italian PRC Chinese Spanish Swedish
Compatible Devices
Nokia N73 Nokia N93 Nokia N93i Nokia N95
Download
Pro Session Golf For Symbian 3rd