The program monitors the state of the battery of your phone. It provides an opportunity to monitor the battery charge and the lifting of phone charger, gives information on the charge, reacts audible signal at full charge shall phone. He has three operation modes: The charging regime, the regime and the regime AntiVor Info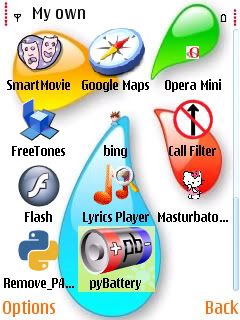 To work needed Python 1.4.1 and modulpak miniPyModulePack
The program is set to the phone's memory, so Python and modulpak should be there, too.
Download
pyBattery v1.3