The application for Nokia S60 3rd Edition mobile devices can helps all Muslims read the full version of Holy Quran in Othmani font, search for words, bookmark any Verse or Sura using a multi-lingual interface and listen to the Quran narrated by Sheikh Al-Hudhaifi.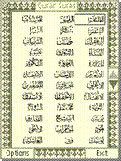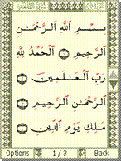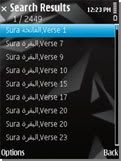 With the Quran application you can:
Read the Holy Quran in digitised Othmany font, included with the application.
Listen to a well-known narrator read the whole Quran or just the sections you select.
Find a Verse or Sura by entering the number, choosing from the menu or by searching the entire Quran for a word or phrase.
Save your current position using the bookmark option or set the application to open at the same place automatically.
Select the language you prefer from Arabic, English, French and Urdu.
Tips & tricks
You can change the font size by going to "Options > Settings > General > Font size".
To listen to narration of a verse, select "Options > Listening to Verse" and enter the verse number.
Download
Quran v1.0