S60Zip v1.02 Symbian Freeware By http://fuse.stc.cx/s60zip/
S60Zip is a free ZIP file manager for Symbian Series 60 v2. It's PKZIP compatible and capable to compress and uncompress archives.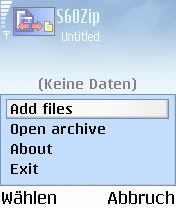 S60Zip v1.02 supports following Series 60 v2.x phones:
Nokia 3230/6260/6600/6620/6630/6670/7610
Features:
– PKZIP compatible.
– Compress/uncompress.
– Open ZIP files from messages (e-mail, Bluetooth), browsers, file explorers etc.
– Send ZIP files via Bluetooth or e-mail.
S60Zip for Symbian Series 60 v2