SafeTxT by Whoredoeuvre
Totally secure your SMSs, contacts, and notes with military strength encryption. Ensures complete privacy for your personal data.
Ideal for international men of mystery, master criminals and adulterous celebrities!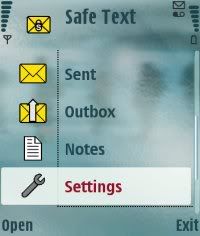 Features
Send and receive encrypted SMSs
Encrypted contact book
Built-in safe for personal notes, passwords etc.
Military strength dual AES+RC4 encryption
Remotely wipe your phone if it`s stolen
It`s totally free!
Compatible Devices
Nokia N91 8Gb (S60 3rd Ed.), Nokia N95 (S60 3rd Edition), Nokia 6682, Sony Ericsson M600i, Sony Ericsson W950, Nokia N80 (S60 3rd Edition), Sony Ericsson M600, Nokia 9300, Nokia 9500, Nokia 6670, Nokia N71 (S60 3rd Edition), Nokia N70, Nokia N72, Nokia 6630, Nokia N73 (S60 3rd Edition), Nokia E60 (S60 3rd Edition), Nokia E61(S60 3rd Edition), Nokia E70 (S60 3rd Edition), Nokia E50 (S60 3rd Edition), Nokia N90, Nokia N91 (S60 3rd Edition), Nokia 9500, Nokia E62 (S60 3rd Edition), Nokia N75 (S60 Erd Edition), Nokia N80 IE (S60 3rd Edition), Nokia 3250 (S60 3rd Edition), Nokia 6680, Nokia 6681
Download
SafeTxT v2.0 Java Midp 2.0