Safe is a java program for j2me-enabled mobile devices. It saves passwords and other important information encrypted in your midlet device. Only one password is required to secure the data stored inside Safe.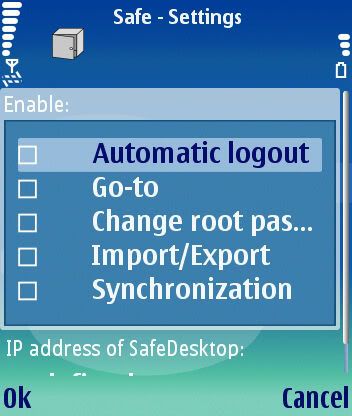 Download
Safe v2.4.1
Cool Stuff
SafeCase 1.2.48 – Secures Data On Your Mobile Phone
SafeCase is an application for mobile phones managing in a secure way secret and private informations like credit and bank card data, bank account data, passwords, PINs, transaction codes, web and email account access data etc.
SafeSecret
Safesecret Java Application By Yohanes Nugroho Safesecret is a free password manager for J2ME/MIDP devices (cellphones). This program will help you store all of your passwords on your J2ME/MIDP capables phone using one master password.
The Messiah v2.0
It makes the CONTENTS of your Videos and Images Folder Invisible!!!!