Safe is a java program for j2me-enabled mobile devices. It saves passwords and other important information encrypted in your midlet device. Only one password is required to secure the data stored inside Safe.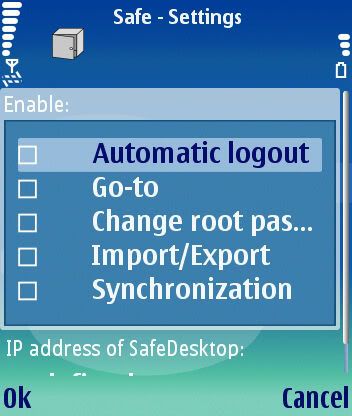 Download
Safe v2.4.1
Cool Stuff
SafeCase 1.2.48 – Secures Data On Your Mobile Phone
SafeCase is an application for mobile phones managing in a secure way secret and private informations like credit and bank card data, bank account data, passwords, PINs, transaction codes, web and email account access data etc.
mGuard- Theft Recovery Software for Java phones
mGuard provides protection and safety from theft or loosing your device and helps to retrieve it back. Now the users can forget the fear of loosing their device by protecting it using mGuard Software. As of now, mGuard is the …
KeePass for J2ME
KeePass for J2ME is a J2ME port of KeePass Password Safe, a free, open source, light-weight and easy-to-use password manager. You can store passwords in a highly-encrypted database on a mobile phone, and view them on the go.