Stopwatch Plus is a time measuring tool which you can use for sport activities or to measure the elapsed time for any task you need to trace. You can also use it as a periodically reminder tool. Stopwatch Plus contains a Counter-up, a Counter-down and a Reminder available as options in the main menu.
Features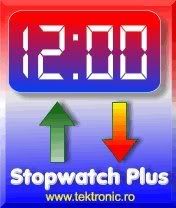 For Counter-up:
– centiseconds precision (1/100 second)
– counts up to 99 hours
– 999 memories slots for time stamps (laps)
– allows Start/Store/Reset/Stop actions for counter.
– able to run in background. The counting keeps running even the Stopwatch Plus is running in background.
For Counter-down and Reminder:
– able to count-down a period up to 24 hours with seconds precision.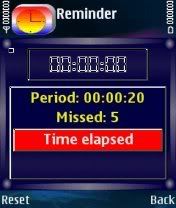 – when the time elapses, it is able to notify you via sound and/or vibration.
– you can select your custom sound file for notification.
– vibra and sound can be set on/off.
– backlight can be turned always on; the lights of the main screen will not be turned off during counting; this allows you to see the screen better.
– Start/Stop/Reset/Continue options.
– after each elapsed period, the reminder automatically restarts; it keeps running and notifying you each time the time elapses.
– the keypad is also unlocked.
– sound volume for notifications can be set from low to high percentage.
– you can use your own alert text. When the time elapses for Counter
-down or Reminder, the text is blinking on screen (eg. time elapsed) while the vibra and/or sound are activated. – the settings are saved and restored to/from the phone memory. – the counting keeps running even the application is running in background.
Note: You must set the 'Vibrating alert' option to 'On' in the current profile to allow the application to vibrate the phone. (Profiles->Options->Personalise->Vibrating alert: on)
Compatible Phones
Nokia 3250, Nokia 5500, Nokia E50, Nokia E60, Nokia E61, Nokia E61i, Nokia E62, Nokia E65, Nokia N71, Nokia N73, Nokia N75, Nokia N80, Nokia N91, Nokia N95
Download
Stopwatch Plus For Symbian 3rd Edition