BT Info J2ME By marek sadevy
Control others mobile phone over bluetooth with this application
so you can created sms or calling on other phones over your phones.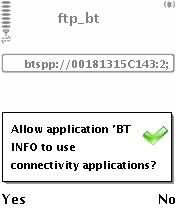 Compatible Devices
sony ericsson K750, W810, K800, K610, W710
Cool Stuff
Compass 4.1 J2ME
Use your cell phone as a compass. By rotating the phone so that the sun and/or moon icons match their location in the sky, the top of the phone will indicate true north.
Tone Composer For Java Phones
Ringtone Composer for OTA-SMS Tones. This is functionally same as one which is present in NOKIA 1100, etc. But, this is more interactive, graphical, and can be installed on any device that supports WMA 1.0
World Clock 3D
Are my colleagues in a distant country at work yet? Use this World Clock to find out. For the correct reflection of time do not forget to advance in tuning of telephone time zone GMT +3.00.
Download
BT Info 1.05