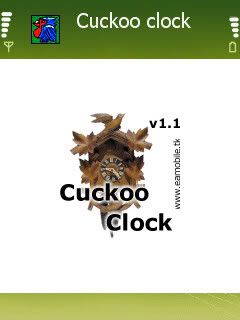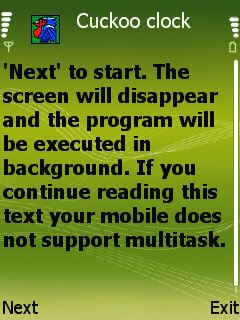 Cucko clock is an alarm clock with cuckoo sound. Get free super funny alarm sound for your mobiles phone!
Plenty of funny alarm clock ringtones make you have a good mood when you wake up!
Set timer clock and fall asleep. You will be early bird. It wake you up easily just instal best alarm clock for free.
Be smart. This is one of must have apps for android. Use simple Alarm Clock for free app and be happy. Simple Alarm clock for mobile phone.
Cool Stuff
Mobile Task Manager 1.2
Mobile Task Manager by Tommi Laukkanen is a GTD tool for your mobile phone. You can store your actions, todo items, references, grocery lists, etc. in the application. Items can have notes for details and user can mark certain items …
Bluetooth Remote Control 2.0
Bluetooth Remote Control Java Application By blueshareware Bluetooth Remote Control is a true universal remote control.Use Bluetooth Remote Control both for buisness and pleasure! Give PowerPoint presentation and see the actual slides in the phone. Change songs that are currently …
Chords & Songs 3.0
Chords & Songs is a guitar chord finder for mobile phone and a very useful songbook with learn functionality. This application supports English, Northern European and Southern European notation style.
Download
Cucko clock Alarm