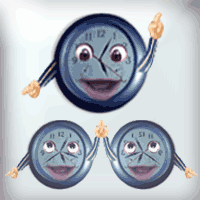 IQ Talking Clock is a software application that gives your phone the ability to read the current time even if your phone doesn't have this built in function . IQ Talking Clock takes the phone's hour and minute and pronounces them out loud letting you know what time it is.
Tip: Assign a shortcut key on your phone to launch the java application with the press of a single key to hear the current time without you having to browse the entire phone menu!
Cool Stuff
FileHide 1.2
FileHide is a simple utility to Hide and Show files on your Java enabled phone. The program is password protected. First time it is run, or whenever you request a Change of password, the program accepts a new password.
Bermin Software MobyToday v1.01
MobyToday is an organiser and today screen which helps you keep track of your upcoming appointments and tasks. MobyToday works on most newer mobile phones, but it is specially designed to work as a stand-by application on the newer SonyEricsson …
Marek Sedivy Real Jack v1.01
Real Jack by marek sedivy is a Newest bluejacking application to send messages via bluetooth to other devices.with features Normal sending, Automatic sending, and Saving to files.
Download
IQ Talking Clock 1.02