Bookshelf is a text reader for your mobile phone. Take your favourite books with you.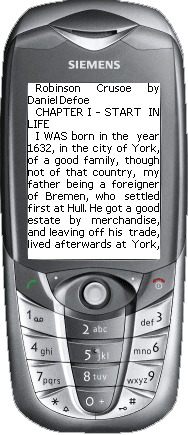 Features
Cool Stuff
Note XP For Java Phones
Note XP is a text editor that you can use to create simple documents. XP version with good GUI. This is especially useful when creating quick notes on cell phone.
Mobile trail Explorer
Mobile Trail Explorer is an application where user can view and record tracks using the mobile phone and GPS device. Recorded tracks can be exported in KML or GPX format. KML file can be viewed in Google Earth application. Mobile …
BMDTalkingClock v.1 J2me
This app tell us the time in the period we want… 1, 10, 15, 30, 60 minutes… Just keep the app open.
Screen rotation 90 and 270 degrees.
Text formatting to fit the screen of the phone
Custom loadable proportional width fonts
Background page pre-rendering
Autoscroll by page, line or pixel
Remembers position in the text and the current book
Backlight toggle
Built-In clock/date
Plugins: remove unneeded features and reduce the size of MIDlet
Proper hyphenation for multiple languages using Fop/TeX patterns
Allows to import system and Palm fonts
Ajustable font and background colors
Bookshelf supports following platforms:
Siemens: C65, CF62, CX65, C60, M55, M65, S55, S65, SL55, SX1
Samsung: C100, E100, E330, E400, E630, E700, E800, S100, S300, X100, X460, X600, D410, D500, E300, E710, P400, P730, X430, X450
Nokia: 6610i, 3200, 7210, 3410, 3510i, 3650, 6230
Motorola: C380, V300, V400, V500, V600, C650, RAZR-V3
SonyEricsson: T630 T610
Download
Mobile Bookshelf v2.1.5