The Mobiscope allows you to access your camera through a mobile phone. In order
to start working with Mobiscope Desktop, you should have the Mobiscope Desktop to be
running on your computer (it should have 'Online' status in the Desktop).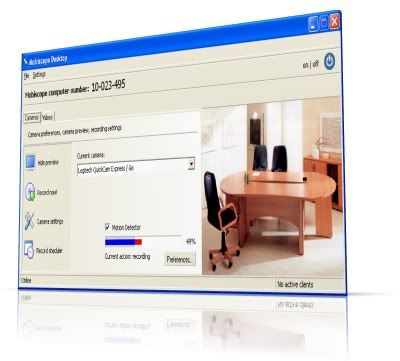 Cool Stuff
MobiMedic – First Aid Advice On Your Mobile Phone
MobiMedic is an interactive mobile phone utility that can be used as a First Aid guide. Ideal to know whether to do in case of traumas, wounds and so much other. Mobimedic will guide you through all procedures and diagnosis …
WeatherIndia V.0.0.6 Java Freeware
WeatherIndia is a weather forecast client that shows the current weather situation for all majot cities of India .
DJK-Microtext 1.3.1
DJK-Microtext is a program designed for reading diverse documentations (text files) directly from the mobile phone. The program is designed for people in fond of reading and not only, you can always read a favorite book, a documentation or funny …
With Mobiscope you can:
* Securely view your home webcam from the office or the road.
* Monitor the security of your home.
* Be closer to friends and family by sharing your webcam with them.
* Be at work and see the kids and nanny at home.
* Let grandparents see their grandkids – safely and securely.
* Check on the pets from anywhere.
Mobiscope Features
Webcam-recorded video playback right on your mobile
Recording startup at motion detection
Customized scheduling for recording start/finish
Secure webcam access
Data transfer encryption
User-friendly interface