Trend Micro Mobile Security 3.0 integrates a new built-in firewall with antivirus security to protect Smartphones and wireless handhelds against viruses, worms, Trojans, spyware, hackers, and denial-of-service attacks.
It also blocks short message service (SMS) text message spam to maximize user productivity.
This solution offers the comprehensive protection needed for the increasing number of mobile devices enabled with WiFi connectivity and higher download speeds. Award-winning Trend Micro antivirus technology helps detect viruses intended for mobile devices and eliminate threats. For maximum protection, Trend Micro Mobile Security performs automatic, real-time scanning and detection of viruses on handhelds and storage cards.
Mobile users also may initiate manual scans. Mobile Security can receive updated pattern files via mobile data connection(GPRS, EDGE, UMTS, etc) or by synchronizing with antivirus pattern file updates on a local PC. Mobile Security takes advantage of TrendLabs, Trend Micro's global antivirus research and support team of engineers who work around the clock to monitor virus activity, develop information on new threats, and deliver effective security solutions to Trend Micro's customers.
Compatible Devices
Nokia 3250 (S60 3rd Edition)
Nokia 5500d (S60 3rd Edition)
Nokia E50 (S60 3rd Edition)
Nokia E60 (S60 3rd Edition)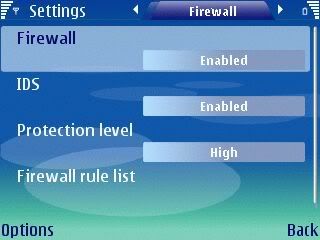 Nokia E61(S60 3rd Edition)
Nokia E62 (S60 3rd Edition)
Nokia E70 (S60 3rd Edition)
Nokia N71 (S60 3rd Edition)
Nokia N73 (S60 3rd Edition)
Nokia N80 (S60 3rd Edition)
Nokia N91 (S60 3rd Edition)
Nokia N92 (S60 3rd Edition)
Nokia N93 (S60 3rd Edition)
Nokia N95 (S60 3rd Edition)
Download
Trend Micro Mobile Security S60 3rd