A-SMS allows you to send SMS with animated emoticons and full screen animations.send it as a simple SMS message, and bring instant smiles to your friends' faces! You can even share the application with your friends via Bluetooth!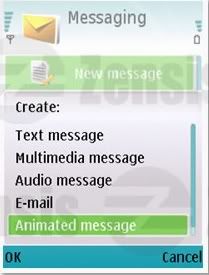 Cool Stuff
WeatherGuide Symbian Series 60 v.1.0
WeatherGuide for Symbian Series 60 phones, offers you current and 5-day weather forecast for almost any city in the world. WeatherGuide provides 2 main views, which are nicely organized to offer you the current weather conditions and the 5-day forecast …
Avatar SMS For Nokia 5800 and N97
Avatar SMS is a symbian application for nokia 5800 or N97 which can put funny emoticons into SMS.other features you can also set your avatar as your mobile wallpaper or save as profile picture for MSN, Facebook, etc!
NetQin Mobile Anti-Virus 2.4.00.20
NetQin Mobile Anti-virus, as the first software passing authentic certification by the Ministry of Public Security and product testing by the Research Institution of China Mobile, is a trustworthy mobile product recommended by nokia.com. NetQin is honored as the first …
A-SMS are sent as plain text SMS. Therefore no extra GPRS or data traffic are used. You can throw all your worries behind and send as many A-SMS as you like!
You can download more emoticons and animations directly to your phone! Making A-SMS more usable more fun and never run out-dated. You can send animations that your recipients do no have. When recieved, the recipient can download the animation directly and then view it.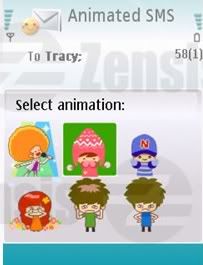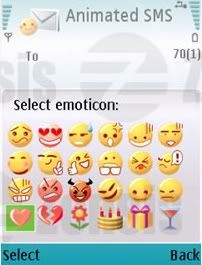 Compatible Phones
Nokia 5500 Sports, 5700 Xpress Music, 6290, N71, N73, N76, N80, N93, N95, E50, E60, E61, E65, E70.
Download
A-SMS v1.2 for symbian 3rd