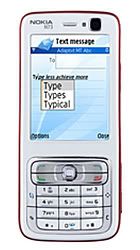 Adaptxt learns as you type and can extract language intelligence from emails and text messages you are viewing.To adopt words, just highlight and click right with the joystick. No instructions or user training needed.You can be a multi-tapper or maybe you prefer writing in predictive mode. Either way, you can complete words, add the next word, add part of a phrase or add an entire phrase.

Features
Learns in Real-time
Adaptxt adapts to you in real-time. Each time you enter a phrase, the grammar, context, and meaning are analyzed and updated. It processes your text with intelligent language models to provide customized suggestions. The more that it is used, the more relevant the suggestions become.

Cool Stuff

Pro Session Golf For Symbian 3rd
Pro Session Golf enables you to capture and analyze your swing by using video analysis tools and swing comparison. Compare yourself to desired model swing on split screen and verify your swing is consistent and follows set targets. Use drawing …
MumSMS.v4.16
MumSMS+ is a smart powerful application which offers you an easy way to protect your private and confidential messages in your mobilephone. All your sensitive SMS/MMS including sent,received and draft messages can be hidden automatically by choosing a proper profile. …
ESET Mobile Security for Symbian
ESET Mobile Security is ESET's antivirus software for Symbian 3rd/5th edition. New Features Anti-Theft features, including SIM Matching and Remote Wipe SIM Matching enables users to define a list of trusted SIM cards on a certain device Remote wipe allows …

Scans your History
Choose to scan existing documents and Emails to personalize Adaptxt to your use of language. This process stores all context, grammar, and semantic information in a personal database. The personal dictionary updates with any new words found.
Expand and Contracts SMS
Adaptxt expands and contracts SMS (Short Message Service) format. Write with fuller vocabulary and convert to SMS for sending.
Customizable Low Profile Design
Adaptxt is unobtrusive. Configure font size, number of phrase suggestions, languages, and more. Choose to place the suggestion boxes anywhere on your screen, or dock them with the Adaptxt soft keyboard.
Statistics Viewer
Adaptxt displays your data input statistics for each session. It can display percentage of, keystrokes saved, non-predicted words, and insertions of words and phrases.
Compatible Phones
Nokia 6121, Nokia 6120, Nokia 5700, Nokia N77, Nokia E65, Nokia 6110 Navigator, Nokia N93i
Nokia N76, Nokia 6290, Nokia N75, Nokia E50, Nokia 5550 Sport, Nokia N93, Nokia N73, Nokia N80, Nokia N81, Nokia N82, Nokia 95, Nokia N92, Nokia N71, Nokia E60, Nokia 3250, Nokia N91
Download
Adaptxt Beta for S60v3