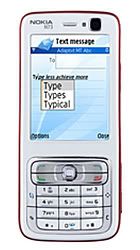 Adaptxt learns as you type and can extract language intelligence from emails and text messages you are viewing.To adopt words, just highlight and click right with the joystick. No instructions or user training needed.You can be a multi-tapper or maybe you prefer writing in predictive mode. Either way, you can complete words, add the next word, add part of a phrase or add an entire phrase.

Features
Learns in Real-time
Adaptxt adapts to you in real-time. Each time you enter a phrase, the grammar, context, and meaning are analyzed and updated. It processes your text with intelligent language models to provide customized suggestions. The more that it is used, the more relevant the suggestions become.

Cool Stuff

Cinema3D For S60
Cinema3D allows you to browse and play 3D animations (emz files).You can set any 3D animation as a 3D Ringtone, 3D New Message Alert, and 3D Screensaver.
Business Card Reader for S60 3rd
The handset as soon as illuminates, the name card material scanning to the handset in, might directly store up immediately has omitted keyboard entry tedious and the troublesomeness.
MakeSIS v1.0
Make SIS Pc Software By This utility has been written to help you make Symbian Installation Files without become crazy with scripts. It will help user to rebuild up a program after changing or tuning it, also help you that …

Scans your History
Choose to scan existing documents and Emails to personalize Adaptxt to your use of language. This process stores all context, grammar, and semantic information in a personal database. The personal dictionary updates with any new words found.
Expand and Contracts SMS
Adaptxt expands and contracts SMS (Short Message Service) format. Write with fuller vocabulary and convert to SMS for sending.
Customizable Low Profile Design
Adaptxt is unobtrusive. Configure font size, number of phrase suggestions, languages, and more. Choose to place the suggestion boxes anywhere on your screen, or dock them with the Adaptxt soft keyboard.
Statistics Viewer
Adaptxt displays your data input statistics for each session. It can display percentage of, keystrokes saved, non-predicted words, and insertions of words and phrases.
Compatible Phones
Nokia 6121, Nokia 6120, Nokia 5700, Nokia N77, Nokia E65, Nokia 6110 Navigator, Nokia N93i
Nokia N76, Nokia 6290, Nokia N75, Nokia E50, Nokia 5550 Sport, Nokia N93, Nokia N73, Nokia N80, Nokia N81, Nokia N82, Nokia 95, Nokia N92, Nokia N71, Nokia E60, Nokia 3250, Nokia N91
Download
Adaptxt Beta for S60v3