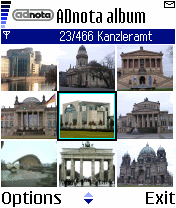 ADnota Album V 3.0.4 Symbian Software By ADnota
If you feel that retrieving your photos should be as easy as making them, ADnota album is what you need.
Browsing is made easy by the clear tiled layout. But if browsing is not purposeful enough, the powerful search features will get you what you want
Cool Stuff
InstantSis v 2.1
InstantSis for S60 By http://biscompute.com/ InstantSis is an application for your Nokia phone that allows you to transfer application applications from your mobile phone to another mobile phone or pc. InstantSis works with any kind of sis compressed, uncompressed, signed, …
Loan Calculator 2.0
Loan Calculator provides the best way to calculate Simple Interest, EMI, Loan Amount, Duration and Amortization Table display. A Must have utility for every Mobile user
SYMBTChat v1.41
SYMBTChat Symbian Software By Symot technologies The simplest and most efficient Bluetooth chat application. With SYMBTChat bluetooth chatting is made easy with a fully automated procedure.
Key features:
* Taking Pictures
* Tagging Pictures
* Easy browsing
* Sorting and Searching
* Location Search
* Text Search
* Voice Search
* Date Search
* Messaging
Support Languages
English French German Italian Spanish Simplified Chinese
Download:
Adnota Album 3.04 free 14 day trial version For s60 2nd
ADnota Album 3.03 For 3660,3650
Supported phones
Nokia 3650,Nokia 3660,Nokia 6260,Nokia 6600,Nokia 6630,Nokia 6670,Nokia 6680,Nokia 6681,Nokia N90,Nokia 7610 andSiemens SX1