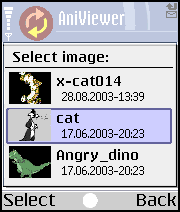 Features Animation Viewer :
Cool Stuff
IQ Barking Phone
IQ Barking Phone is fun application that allows your mobile phone can bark. You can scare your friends with the bark of an evil dog, or you can amuse them with the little dog that tries to be scary.
Active Desk v2.50
Active Desk v2.50 Symbian Software By Cibenix Active Desk provides five information rich, full featured, customisable views of the key information stored on your Nokia Symbian s60, including calendar entries, to-dos and messages.
select image (any image, not just animated gif) from Photo Album
shows continuous loop of animated gifs
installation package has English, German, Italian and Finnish versions
Download
Animation Viewer for S60