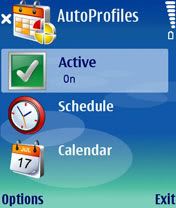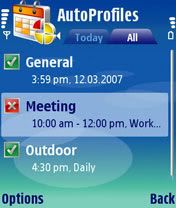 AutoProfiles schedule automatic profiles change and Bluetooth status change on your mobile. Now the software is fully compatible with mobile phones Series 60.5: Nokia 5800 Xpress Music, Nokia N97. Version 3.2 released on 06.07.2009!
AutoProfiles will change profiles for you automatically, according to your own schedule and to the meetings in your mobile calendar, saving your time and nerves. It includes also a Bluetooth scheduler which can be used together with profile change or separately.
Cool Stuff
KEYnetik Hi-N-Bye v1.0.4
Hi-N-Bye is a motion input application for Symbian S60 phones with accelerometers (i.e n95, N82) & iPhone. It enables the user to asnwer calls, hang up calls, swap calls, and more – all with simple and intuitive gestures and without …
Jbak TaskMan v0.97 For S60v3
Jbak Taskman is a free program task manager for symbian 3rd. It also features shortcut launcher and app launcer. With loads of settings available, you can customize it as you like.
Skyfire 1.0
Skyfire 1.0 is here! You'll want to upgrade today – either launch Skyfire and follow the upgrade link, or go to get.skyfire.com to get 1.0.
Features
* Automatic profile timer based on schedule
* Bluetooth scheduler includes hidden and visible for all statuses
* Change to selected profile during a meeting in the mobile calendar
* You can select meetings on which AutoProfiles should be active
* Every schedule entry can be activated and deactivated at any time
* Scheduling of mobile native and of user defined profiles
* Profile deactivation time can be chosen
* Overlapping scheduling not a problem due to different priorities for schedule conditions
* Today tab shows all profile changes scheduled for the current day
* The software is fully compatible with mobile phones Series 60.5
* New languages added
* Workdays are user defined