AutoThemes software for symbian Series 60v3 is a cute theme scheduler for your Nokia Smartphone. AutoThemes will change themes for you automatically, according to the active profile or at the exact time chosen.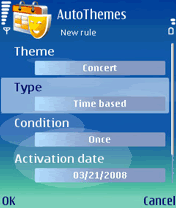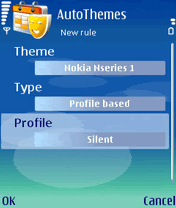 Features
Cool Stuff
Reuters News For Symbian 3rd
Reuters News For Symbian is a flashlite application for nokia symbian s60v3 devices.Reuters provides full, up-to-the minute stories on the latest news and business developments
Core Mp4 Codec
CoreMp4 codec supported Video formats DIVX, DX50, XVID, 3IVX, 3IV2 for Symbian phones with SmartMovie version 3.10 or higher.
Advanced Battery Saver for Symbian S60 3rd and 5th Edition
Advanced Battery Saver is a symbian app that can configures the power-consumption of various phone functions, services and applications to ensure up to 30% longer battery life when you need it most.
Two types of rules for theme change: profile based and time based
Theme change performed smoothly and silently, without mobile reboot
Easy to use and friendly interface, easy rule creation
Quick rule deactivation with only one key pressing
Multilanguage support
Download
AutoThemes 1.0 for Symbian 3rd