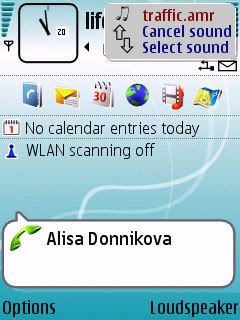 With this software you will be able to play different sounds during a phone conversation, i.e: sounds of street, traffic jam, building site, garden, airport etc.compatible with Nokia 3250, 5500 Sport, 5700, 6110 Navigator, 6120, 6121, 6290, E50, E51, E60, E61, E61i, E62, E65, E70, E90, N71, N73, N75, N76, N77, N80, N81, N81 8GB, N82, N91, N92, N93, N93i, N95, N95 8GB
Features
Configurable sound rules for contacts, groups, phone numbers and other situations;
Easy to use and intuitive user interface;
Possibility to add any sound in amr format to sound list;
Download
Best CallCheater v1.01 for Symbian 3rd edition
Cool Stuff
CUBIX MP3 PLAYER
CubiX MP3 Player Symbian Software By Gamephone CubiX MP3 Player is the ultimate choice for any music fan! You get a high quality MP3 player which lets you create your own playlist, displays amazing 3D visualizations, provides a 10-Band Graphical …
Easy Reject for Nokia S60 3rd edition
Easy Reject is an easy call manager which rejects calls with a busy tone and silently filters SMS.
NiceCalc3 – Scientific Calculator for Symbian OS
NiceCalc3 is a simple yet powerful calculator for Symbian OS. High computation precision, operations precedence support, customizable buttons and even more handy features included.