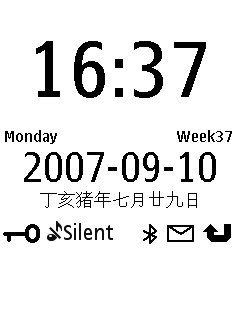 Change log:
Modify behavior : If "Power saving mode" is "No", if the keypad is unlock just before screensaver activate, it will remain unlocked. However, when you press any key, you still will see the "Unlock" dialog box.
Cool Stuff
Large Time Screensaver 1.02 For S60 3rd
A screensaver for Series 60 3rd edition phones, licensed under GPL. After installing the package, it can be selected and enabled in the themes application on the phone.
AACPlayer v1.11
AACPlayer 1.11 Symbian Software By www.viking.tm AACPlayer is an AAC or MP4 audio player for Nokia Symbian phones with stereo playback, Bluetooth headsets, supports skins,
Avira GmbH AntiVir Mobile v 1.10
AntiVir Mobile provides protection against Symbian specific malware for smartphones that run on the operating system Symbian.
Bug fix : At preview, the offset from the top is follow last screensaver position. It should reset to 0.
Modify behavior : Further reduce power consumption on option "Always on top" by reduce the refresh rate.
Bug fix : Simplify Chinese font size label incorrect.
Feature : If system alarm is being active, it will show as an icon.
Bug fix : Display battery bar not the same as phone desktop battery bar.
Modify behavior : show X if battery level is less than 14%.
Modify behavior : Week and Chinese calendar font size make it adjustable in Twips and also add bold options.
Feature : Add time display at icon banner.
Modify behavior : For screen width more than 320, the icon banner font will using "Title" instead of "Normal"
Bug fix : Some Tradition Chinese text string incorrect.