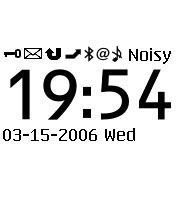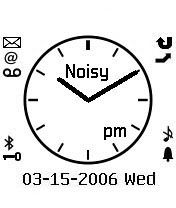 It shows the time in either large digits or on a large dial, easy to read even without the background lighting. It also displays the date, the day of the week, the selected profile, and it uses icons to show the locked status of the keyboard, incoming SMS, e-mail and voicemail messages, missed calls, silent ringing, alarms set and Bluetooth status. The digital version automatically switches between 12-hour and 24-hour display as set in the phone preferences.
Cool Stuff
Best TaskMan v2.01 For S60 3rd edition
Running applications and tasks control, ability to substitute built-in system task manager or work along with it, 'Windows Alt-Tab' style task switcher, a unique way to access favorite applications (Quickstart), running processes control, and many more advanced functions to explore.
UpCode Reader For Series 60
It is an optical code reader that uses mobile phones/devices to add any electronic information or system to printed products. With the application it is possible to integrate all businesses, and all forms of eCommerce, with print media. UpCode provides …
NiceClock V2.0
NiceClock S60 for SymbianOS by http://very-soft.com NiceClock – stylish gear for your Time! Completely new clockwork with skinable Screensaver, Voice informer, Keyboard locker, advanced Alarm and Organizer.
It's a genuine screen saver integrated into the operating system of the phone, not a separate application running in the background constantly. This means a very small memory footprint, negligible use of the phone's resources, including approximately the same low battery consumption as with the original screen saver.
Download
ClockSaver v1.00(1) For Symbian 3rd