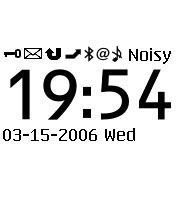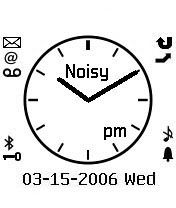 It shows the time in either large digits or on a large dial, easy to read even without the background lighting. It also displays the date, the day of the week, the selected profile, and it uses icons to show the locked status of the keyboard, incoming SMS, e-mail and voicemail messages, missed calls, silent ringing, alarms set and Bluetooth status. The digital version automatically switches between 12-hour and 24-hour display as set in the phone preferences.
Cool Stuff
Quran juz30 v1.0
Islamic Java Application The Translation of Quran Juz 30 in Bahasa Indonesia(Indonesian) We hope this application could become a reference for the moslems (especially in Indonesia) . We are pleased if anybody could give us a feedback for the future …
Guitar Tuner Mobile 3.0 For Symbian 3rd Edition
Guitar Tuner Mobile by Vesuvian Software is a free application, which let's you accurately tune your guitar.This particular digital tuner shows you the complete sound spectral analysis. The sound spectrum gives you information about the real quality of the note …
Free DigiClock Screen Saver For Symbian 3rd by splus
Free Animation Digital Clock screen saver for your phone.
It's a genuine screen saver integrated into the operating system of the phone, not a separate application running in the background constantly. This means a very small memory footprint, negligible use of the phone's resources, including approximately the same low battery consumption as with the original screen saver.
Download
ClockSaver v1.00(1) For Symbian 3rd