Accurately count days or search dates in seconds. 10-Function Professional calendar counting! Works on almost ALL java-enabled mobile phones/PDAs.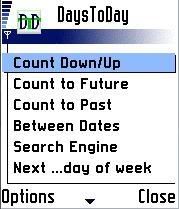 Compatiable Phones
BenQ P30, BenQ P31, Motorola A1000, Motorola A920, Motorola A925, Nokia 3230, Nokia 3250, Nokia 3600, Nokia 3620, Nokia 3650, Nokia 3660, Nokia 5500, Nokia 6260, Nokia 6600, Nokia 6620, Nokia 6630, Nokia 6670, Nokia 6680, Nokia 6681, Nokia 6708, Nokia 7610, Nokia 7650, Nokia 7710, Nokia 9200 Series Communicator, Nokia 9210 Communicator, Nokia 9290 Communicator, Nokia 9300, Nokia 9500, Nokia E50, Nokia E60, Nokia E61, Nokia E62, Nokia E70, Nokia N-Gage, Nokia N-Gage QD, Nokia N70, Nokia N71, Nokia N72, Nokia N73, Nokia N75, Nokia N80, Nokia N90, Nokia N91, Nokia N95, Nokia Series 60, Panasonic X700, Panasonic X800, SendoX, Siemens SX1, Sony Ericsson M600i, Sony Ericsson P800, Sony Ericsson P900, Sony Ericsson P910, Sony Ericsson P990, Sony Ericsson W950i
Cool Stuff
VideoRingtone Editor
VideoRingtone Editor Software For PC By SmartphoneWare The freeware application VideoRingtone Editor enables you to create and edit video-ringtones on your PC.
Nokia Big Screen – Portable Media Centre
Nokia Big Screen is symbian app for Nokia N8 and Nokia E7 that allows to Share your favourite mobile content on any HD TV screen.
Map24 Mobile v3.0 For Symbian Phones
Map24 Mobile is tailored especially for those who are constantly on the move, giving you comprehensive location based information and features when combined with your Smartphone or Pocket PC. Would you like to know where the nearest restaurant, hotel or …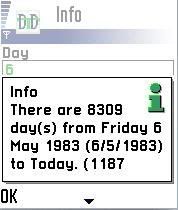 Download
DaysToDay 2.1
Please see the extensive help in the "Help" option of each screen to understand how to use it. It's FREE!!! Please help donate on our "Clearevo" website: www.Clearevo.com if you find this application useful.
.