Download DivX, XviD and MP4 video player for your Symbian. DivX Mobile Player will try to play any video on any device, but playback performance will depend on the phone's processor speed (DivX recommends 200 Mhz or faster). The application will drop video frames as needed during playback which means it won't achieve 30 fps for all bitrates.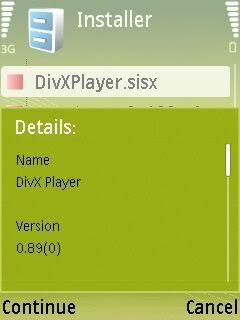 Cool Stuff
SymStart v1.1
SymStart Symbian Software By Symbysoft, Ltd. This program is convenient and reliable manager of autoexecutable application which allows you to install the set of programs used frequently to start when restarting or rebooting your Symbian phone. Also such programs can …
Virtual GameBoy 3.1.2 For Symbian S60 3rd
Download Virtual GameBoy 3.1.2 Symbian Software By Marat Fayzullin. Virtual GameBoy will run GameBoy, Super GameBoy, and GameBoy Color cartridge files with .gb, .gb.gz, .gbc, and .gbc.gz extensions. Place your files into E:OthersVGB directory.
Calcium V1.0
Calcium Ver 1.0 Symbian Apps Calcium is S60 calculator, easy to use calculator for your mobile phone nokia s60
For the best playback results on most mobile phones, convert your videos to DivX at 24 or 30 fps, 320×240 resolution, 300 kbps video and 128 kbps stereo audio. A great DivX player, requires free registration. Can playback 320kbps QVGA DivX video at 15fps without dropping any frames.
Download
DivX Mobile Player 0.89 for s60 2nd edition
DivX Mobile Player 0.89 for s60 3rd edition