Download! for PC enables you to discover mobile content using a PC. When you connect your mobile device to the PC, Download! for PC automatically synchronises with the corresponding application on your device. This makes it easy for you to find, download and manage content that is compatible with your device.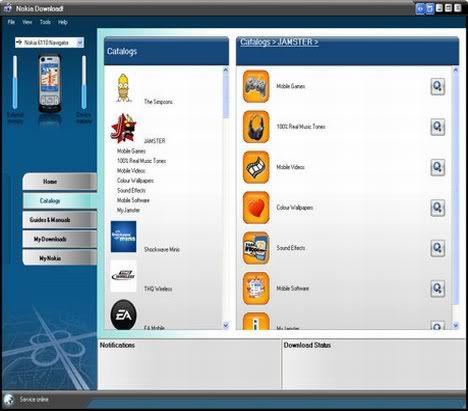 In order to use Download ! for PC you need to install both the PC version and a beta version to your device (even if you already have Download! on your device). The PC and mobile version integrate with each other so that you can see what has been installed from either version. Once installed Download! shows up as an extra module in PC Suite.
Compatibility and system requirements
* Nokia 6110 and 6120. Works but not fully tested on Nokia N95, N76, E90, 6290 and 5700.
* Nokia PC Suite version 6.82 or later OR Nokia Nseries PC Suite
* Windows XP Professional or Home Edition
* Available hard disk space: 100 MB
* Memory: At least 256Mb of memory (512 Mb is recommended)
At least one of the following:
* USB connection cable (DKU-2, DKE-2, CA-53 or CA-70)
* Bluetooth wireless technology accessory and software
* Infrared port on the PC
Cool Stuff
Phone Unlock v 1.01
Phone Unlock Symbian Software ByMobiFun Soft Some of us often forget the Lock Code of the phone minutes after the change. It is not such a problem any more. Phone Unlock resets phone's Lock Code in case you don't know …
iSkoot
The first third-party mobile client application to be certified by Skype.This confirms that iSkoot meets Skype's standards for usability and quality, making it the first third-party mobile client application to be certified by Skype. iSkoot allows mobile phone users to …
ShaPlus TinyQuran V1.2
TinyQuran, which is a program designed to help memorise Quran for Java enabled mobile phones and handheld devices(MIDP 2.0 enabled devices).
Download
Download! for PC