Mobile GPS solution for your Symbian handset and be ready for travelling, hiking, driving, geocaching and more!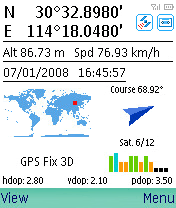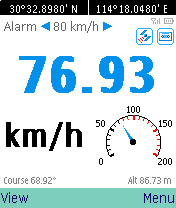 Features
Cool Stuff
Magic Brush 1.0 – Painting Tool for Symbian S60 5th Edition
Magic Brush is a painting app for S60v5 such as nokia 5800 , Vivaz, or N97. this application helps you to make impressive images using wide range of tools for drawing.
Malarm v.1.5
MALARM FOR NOKIA S60 when someone touch it it will begin screaming .It's like the alarms of the cars when u move the mobile phone it will begin screaming and asking for password to stop screaming , so u can …
Al-Morafiq Basic – English-Arabic Dictionary for Cellphones
Al-Morafiq, the first English to Arabic dictionary that works cross-platform on numerous mobiles and PDAs. It includes fast searching, filtering matched words whilst you type without making you leave the main screen. No need to remember the entire word, Al-Morafiq …
Designed GPS information overview.
Free image map real-time navigation. (Advanced caching technology supports fast map operation & ULTRA LARGE map image)
"Go To" function – define your destinations and be guided all the way with distance, TTA, direction guider, proximity alert…
World map view navigation with free-scale zooming.
Digital speedometer & customizable speed alarms.
Two-mode digital compass with dest. information display.
New! Google KML, GPX, CSV format track logger & trip statistics.
Waypoint & POI Manager + 30+ pre-defined POI icons.
Night view mode, fast 0~7 view switch.
Advanced smooth animation effects.
Advanced "5 Sec. Average" and "Kalman Filter" processors for high precision navigation.
Supports built-in & Bluetooth NMEA0183 GPS receivers. Auto detects Bluetooth GPS receiver.
Compatible Phones
All Symbian S60v3 phones with Built-in GPS Receiver e.g. Nokia 6110, 6210, E90, N82, N95, N96 etc.