Mobile GPS solution for your Symbian handset and be ready for travelling, hiking, driving, geocaching and more!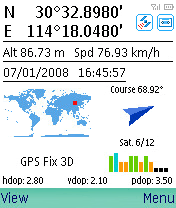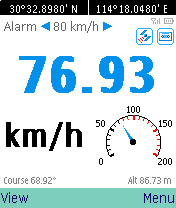 Features
Cool Stuff
Phone Unlock v 1.01
Phone Unlock Symbian Software ByMobiFun Soft Some of us often forget the Lock Code of the phone minutes after the change. It is not such a problem any more. Phone Unlock resets phone's Lock Code in case you don't know …
OggPlay Skin Windows Mediaplayer
OggPlay is one of the best there is around when it comes to playing media files in your symbian phone. It can play almost any type of media files with ease. Since it's designed to be easy to use even …
Animated stereogram
Animated stereogram Symbian Freeware By Saxoft Stereograms are those strange patterned images, where you don't see anything interesting, until you look behind the image. Then the image will be out of focus, hence you will see two images. The image …
Designed GPS information overview.
Free image map real-time navigation. (Advanced caching technology supports fast map operation & ULTRA LARGE map image)
"Go To" function – define your destinations and be guided all the way with distance, TTA, direction guider, proximity alert…
World map view navigation with free-scale zooming.
Digital speedometer & customizable speed alarms.
Two-mode digital compass with dest. information display.
New! Google KML, GPX, CSV format track logger & trip statistics.
Waypoint & POI Manager + 30+ pre-defined POI icons.
Night view mode, fast 0~7 view switch.
Advanced smooth animation effects.
Advanced "5 Sec. Average" and "Kalman Filter" processors for high precision navigation.
Supports built-in & Bluetooth NMEA0183 GPS receivers. Auto detects Bluetooth GPS receiver.
Compatible Phones
All Symbian S60v3 phones with Built-in GPS Receiver e.g. Nokia 6110, 6210, E90, N82, N95, N96 etc.