Egg Clock is a simple and easy to use egg timer for Symbian 3rd. In contrast to most hardware egg timers it supports three different "notification schemes". It can be operated with the phones cursor alone.The timer value can be up to 100 minutes.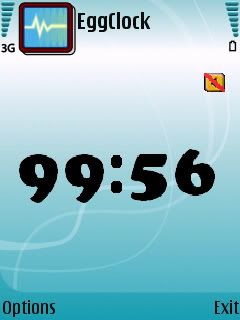 Cool Stuff
SmartProfile v 2.4
SmartProfile Symbian Application By UltimatePortable Automatically adjust your phone profiles according to your schedules or locations.Want your phone to be silent in the middle of night or in a libary? Let SmartProfile do it !
N-Gage First Access
N-Gage First Access allows Nokia N81 owners to download the pre-release version of the N-Gage application, try and buy N-Gage games, and provide feedback on the experience. It's a great opportunity to be the first to join the new wave …
Tutorial for Open Signing
visit www.symbiansigned.com *Enter the IMEI number in first field (to get IMEI number type "*#06#" in your Nokia phones)
It has been tested with the Nokia N95. It seems to work also on other S60v3 phones from Nokia.
Download
EggClock v1.3.0