FExplorer 1.16 Symbian Software By Dominique Hugo
With this application you can to manipulate any files, you can use the cut/copy/paste functions through the directories, you can also send files via bluetooth or infrared. Other usefull functions are also available such as making or removing directories, keeping the light always on etc.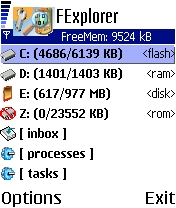 On this version fix bug :
* it's now possible to edit a text file and to save it back either in unicode or ascii
* applying attributes (hidden, read-only, …) on a directory, you can choose to apply the changes on the selected directory only or the selected folder, subfolders and files
* when changing attributes, a confirmation message is displayed prior to apply the changes
Download
FExplorer 1.16 BETA
Cool Stuff
nGIRLS v1.0 FINAL For Symbian 3rd
nGIRLS for symbian created by PROTOCHIP Features Dancing Girls On the Standby Screen ! 12 Different Dance Shows 4 Different FullShows Background Music Option While Dancing Enable/Disable Option Autostart option Menu Interface NO NEED TO REBOOT ANYMORE TO APPLY CHANGES …
Internet Radio v 1.05
The S60 Internet Radio reference application is a fully working example of an audio application developed for the S60 platform.
KeypadLock For Nokia Symbian S60
KeypadLock is a application service which is able to automatically lock the keypad of your phone. You can unlock the keypad as normally pressing the left soft key and the star ' * ' key. The application has extended capabilities …
Any remark, comments, bugs should be reported via the forum. (save as)
if you get some problems, please, remove the previous version using the application manager of your phone.