FlashSMS Symbian Software By Symbian Toys
First Symbian Series 60 application able to send flash-sms without needing of any additional service. Nothing to configure, just write your sms and select the recipient.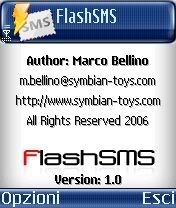 Flash-sms are particular kind of sms that are shown immediately on recipient device display and after a keypress will disappear without being stored on phone memory.
Cool Stuff
IM+ Talk for Symbian OS S60v5
IM+ Talk for symbian 5th edition such as Nokia 5800 or N97 allows you can chat with Skype friends, call any PC, mobile phone, making it very cost effective and it does not need WiFi and works on all carriers …
WirelessIRC
WirelessIRC is a native IRC client for your Nokia Symbian. You can chat with thousands of other people online or exchange images, voice notes or other files.
SymExplorer v0.1
SymExplorer is a new FREE file explorer with extended functions for Symbian S60. With it you can manage your files and get the system information of your Mobile Phones.
Download:
FlashSMS v 1.0