Flying Money Manager is the professional expense tracker and budget manager with your account balances, all transactions at a glance.With FlyingMoney Manager you have on-the-go access to your accounts' balances, credit limits, all your payments, deposits and transactions histories.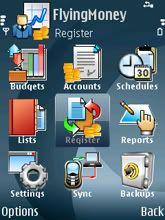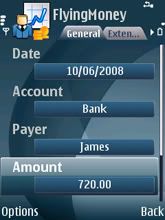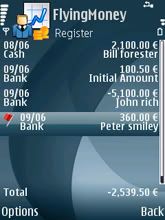 Features
Cool Stuff
MagicKey 1.0 BETA – Symbian 3rd Edition
MagicKey beta is a freeware application that allows you can map any key of your phone to work as any other key.
PyTwitterS60 – Twitter Client Symbian 3rd Phones
PyTwitterS60 is a Twitter client for Symbian devices, that offers a simple and efficient way to use Twitter on your phone.
Best Timer for Nokia 5800 and N97
BestTimer is a symbian software for nokia Nokia 5800, Nokia 5530, i8910 Omnia, Satio (s60v5) for setting different kinds of timers. Easy-to-use and intuitive interface, Pizza timers, 'Remind me in' timers, and stopwatch with 3 modes. Features Multiple timers Visual …
Start menu: easy to star and navigate.
Account balances at a glance
View account's registry
Budgets: setting up and reports
Scheduled Transactions: weekly, monthly, etc. automatically generated on the due dates
Memorized/Regular Transactions.
Finance information security. Encryption. Password-protection.
Search Transaction tool.
Reporting tool with export to MS Excel
Split of Transaction across multiple categories
Forecasting of future account balance.
Reminders for scheduled Transactions.
Customizable Expense and Income Categories.
Back-up and Restore your financial data.
Support of multi-currencies transactions.
Account balancing: purging transactions; adjusting new balance ( UIQ 3 only)
Export/Import of QIF, OFX, QFX files for integration with the finance software like MS Money, Quicken etc.